Our Board of Directors are responsible for our overall management and supervision. Our Executive Directors are responsible for our day-to-day management under the supervision, direction and control of our Board of Directors.
KSK Energy Ventures Limited currently consists of eight (8) Directors, which includes six (6) non-executive Directors of whom three (3) are also independent directors.
Padma Bhushan Mr. T.L. Sankar
Non-Executive Chairman


Mr. Sankar has a Master of Science degree in Physical Chemistry and a Master of Arts degree in Developmental Economics. He has approximately four decades of experience in the energy sector. In 2004, he was awarded the Padma Bhushan, one of the highest civilian awards given by the Government of India. He has worked as the Secretary of the Fuel Policy Committee (1970-75), the Principal Secretary of the Working Group on Energy Policy (1978-79), a member of the Advisory Board on Energy, Government of India and a member of the Integrated Energy Policy Committee formed by the Planning Commission, Government of India. He was also the Energy Secretary to the Government of Andhra Pradesh and the Chairman of Andhra Pradesh State Electricity Board. He is the founder and Chairman of the Andhra Pradesh Gas Power Corporation Limited and headed the Gas Price Revision Committee of the Government of India in 1996. In addition, he has worked with the United Nations as an advisor on energy issues to the Governments of Sri Lanka, Tanzania, Jamaica, North Korea and Bangladesh and has headed the Asian Development Bank's Asian Energy Survey.

Mr. S.R. Iyer
Non-executive Director

Mr. Iyer has a Bachelor's degree in Science and is a Certified Associate of the Indian Institute of Bankers. He joined the State Bank of India as a probationary officer in 1962 and after holding various positions with the bank in India and abroad, he retired as its Managing Director in 2000. Since then, he has been a part of various banking industry working groups in India and was also the Executive Chairman of the Credit Information Bureau (India) Limited from February 2001 to February 2004.

Mr. Girish N. Kulkarni
Non-Executive Director

Mr. Kulkarni has a Bachelors Degree in Engineering from the Indian Institute of Technology, Mumbai and a Post Graduate Diploma in Business Administration from the Indian Institute of Management, Ahmedabad. Mr. Kulkarni has approximately 20 years of operating and investment experience in different aspects of the Indian capital markets. He started his professional career as a project finance officer with ICICI, after which he became the head of equity sales, trading and research at ICICI Securities Limited. Mr. Kulkarni has been involved in numerous IPOs in the Indian capital markets and several mergers and acquisition assignments. Mr. Kulkarni is the advisor to the India Technology Fund, an early stage venture fund invested in Technology companies. He is also the Founder and Managing Director of Suyash Advisors, the India advisor to Monsoon Capital, an India dedicated alternative asset fund managing about USD 500 million for investment in public and private equities and real estate projects in India.

Mr. Anil Kumar Kutty
Non-Executive Director

Mr. Kutty has a Masters degree in Physics from the Delhi University. He has over three decades of experience in various fields including banking, administrative service and power sector. Mr. Kutty belongs to the 1978 cadre of the IAS and has handled several key assignments in the power sector, both for the State Government of Andhra Pradesh and the Government of India. As Member (Secretary) of APSEB, he was in charge of power sector reforms in Andhra Pradesh and was also the first CMD of APTRANSCO and chairman of the distribution companies. He worked as Joint Secretary, Ministry of Power, Government of India until 2007.

Mr. Tanmay Das
Non-Executive Director

Mr. Das has a Bachelor's degree in Electrical Engineering and a Postgraduate Diploma in Management. He has more than 15 years of experience in project, finance, fund management and development of generation assets. Mr. Das was a Wholetime Director of the Company and with effect from April 5, 2008 he has been a Non-Executive Director.

Mr. K. Bapiraju
Non-Executive Director

He is an engineer with a degree in Electronics & Communications with more than two decades of experience in the IT industry. He is positioned in Delhi and leads the Corporate Affairs group and is also actively involved in formulating corporate strategy.




Mr. K.A. Sastry
Executive Director

Mr. Mr. Sastry is one of the Promoters of the Company. Mr. Sastry is a qualified chartered accountant, leads project execution and operations activities of the business in addition being responsible for financial accounting, taxation and human resources functions of KSK Energy Ventures. Prior to incorporating KSK, Mr. Sastry had more than a decade of extensive experience in the domains of consulting, audit, company law and foreign investment regulations.



Mr. S. Kishore
Executive Director

Mr. Kishore is one of the Promoters of the Company. Mr. Kishore is a qualified chartered accountant, leads the Business Development & Capital formation (both Equity and Debt) initiatives of the Group and has been instrumental along with Mr. Sastry in the rapid growth of KSK over the last decade. Prior to incorporating KSK, Mr. Kishore was a financial advisor & consultant for major domestic as well as international businesses in emerging technology areas and importantly has advised multiple energy companies/ utilities/ market entrants since early nineties. Mr. Kishore has been additionally associated with various reforms and regulatory initiatives of the Government and has served in various committees.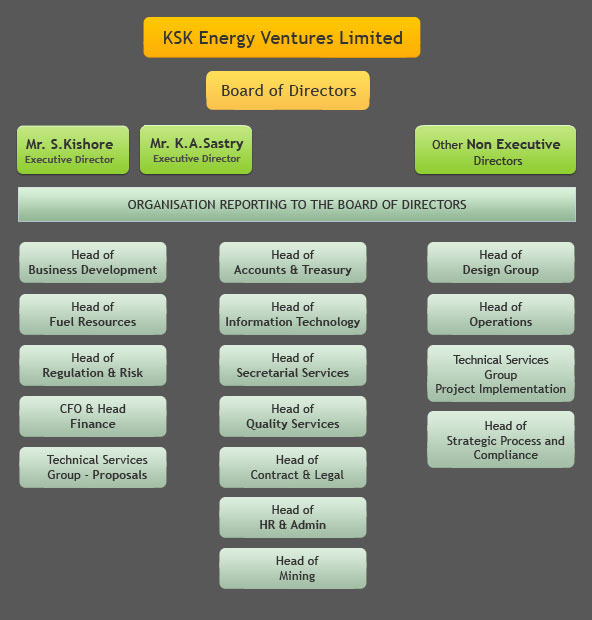 The business address for our Board of Directors is
8-2-293/82/A/431/A, Road No.22,
Jubilee Hills, Hyderabad – 500 033,
Andhra Pradesh, India.